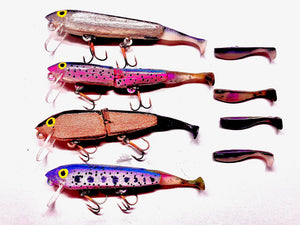 AC Trophy Rainbow Trout Kit
Product Description:
We asked Allan to pick his 4 favorite trophy rainbow trout lures to put into a kit. Once rainbow trout get to a certain size they switch over to feeding almost exclusively on baitfish. These four lures will catch giant rainbows anywhere in the world.

The kit includes:
-5" black and silver ripbait
-5" rainbow skinny
-5" gold and black mag shad
-5" baby trout ripbait
-1 assorted tail 5 pack to match lures